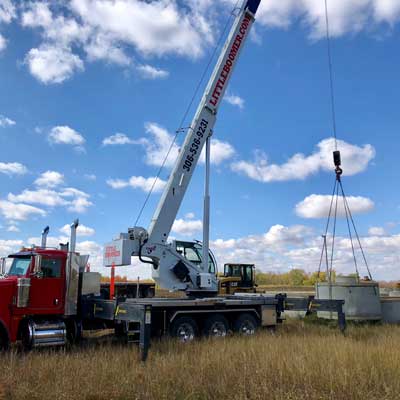 50 TON CRANE
This is the largest crane in our fleet
It has 128 feet of live boom, making it a perfect solution for fewer set-ups on the job site
A 49 foot jib can be added on to this crane, extending the boom height to 185 feet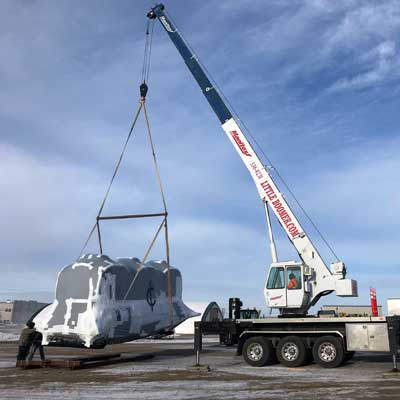 40 TON CRANE
This crane is the second largest in the fleet, and while it is similar in size to the 35 ton crane, it offers more capacity and boom length
It has 124 feet of live boom, yet is still very mobile with easy, short set-up times
A 32 foot jib extension gives this crane a boom height in excess of 165 feet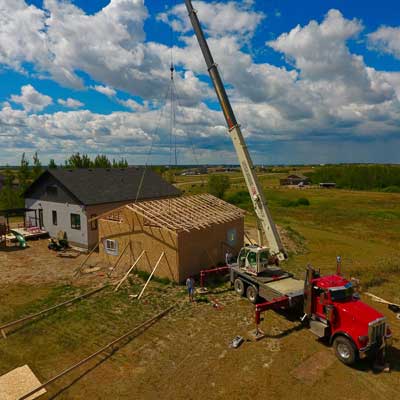 35 TON CRANE
This crane is ideal for jobs in confined areas because of its compact size and maneuverability
It has 100 feet of live boom, allowing adequate reach for certain tasks
15, 18, 20, 25, and 30 ton rates are available as well for smaller jobs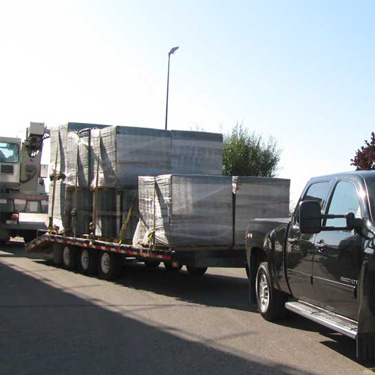 25 FOOT FLAT DECK TRAILER
This trailer allows Little Boomer Crane Services Ltd. to haul debris or material such as signs, roofing material or roof top units to and from the construction site.
FIXED MAN BASKET AND HANGING MAN BASKET
These baskets enable one or two persons to be attached to the boom or hang from the ball so that work can be performed at large heights. Both baskets are safety certified and designed with your safety and security in mind. They also provide the necessary safety harnesses to secure you to the basket as per the Occupational Health and Safety standards.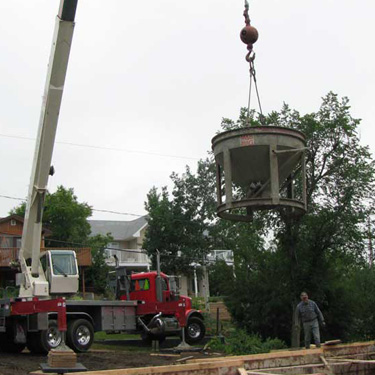 CONCRETE BUCKET, ROCK BUCKET AND PALLET FORKS
The concrete bucket has a ¾ yard capacity and is ideal for all your concrete pouring needs, including footings, grade beams, pilings, and all foundation concrete pouring
The rock bucket has a ¾ yard capacity and is ideal for spreading rock on roof tops or around basement foundations
The pallet forks allow us to hoist pallets of material in a variety of situations such as shingles, clay tile roofing or other roofing material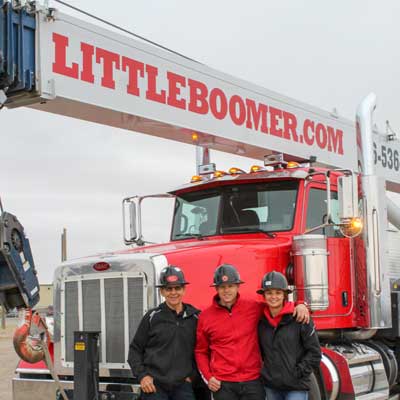 CRANE OPERATORS AND EQUIPMENT SAFETY
All crane operators at Little Boomer Crane Services Ltd. are ticketed and equipment is checked on a regular basis to ensure that our operators and equipment meet the highest industry safety standards. Here at Little Boomer Crane Services Ltd., safety comes first!
If you have any questions about the equipment we offer, don't hesitate to give us a call!